Profile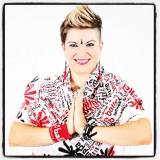 info@salvatoretamara.com
0738554035
City/State:Everton Hills Queensland
Country:Australia
Zip/Postal Code: 4053

29th January, 2014
Bio:
Tamara is a dedicated, determined and passionate Zumba® Fitness Instructor, Zumba® Jammer, Masala Bhangra Ambassador, Ballroom Dancer and coach, who specialises in the International Latin American style of Dancesport. She is also the owner of DancEvolution.
She started dancing when she was 12 years old when her mother took her to see the movie "Strictly Ballroom" she started classes the very next week and has not looked back since, she had a very successful career in Dancesport and now enjoys teaching others and sharing her love for dance. Primarily trained as a Dancesport Latin American dancer, she has also studied Ballroom, New Vogue, Hip Hop, Ballet, Flamenco, Irish Dancing and Yoga. Tamara also has a passion for music and plays piano and composes original music.
She is known for her vivacious energy and bubbly personality as well as her patience, creativity, technical skills, presentation skills, professionalism and abilities as an instructor and educator.
Certifications/Licenses:
- Level 1

Mantra:
"Do or do not, there is no try"