About Masala Bhangra®
Stay fit and keep smiling!
Global Vision for the future
Empowering a Life long way of being through Indian dance and music.
Our mission is to promote, empower and inspire a permanent healthy lifestyle.
Masala Bhangra is a lifestyle program where the Dhol Drum beats meets the glamour of Bollywood. With easy to follow choreography, participants are encouraged to move, touch and inspire! People of all ages are nurtured in changing their lives, empowering their minds and strengthening their bodies through the power of expressing themselves with movement.
Masala Bhangra® is an Indian-dance based program, designed for people of all ages and fitness levels who love to stay physically active. Masala Bhangra® is an ACE, AFAA and AFLCA approved program. Specifically, it introduces high energy Bhangra and Bollywood dance movements in an easy-to-follow fitness format, and is a mechanism by which thousands of people have been moved, touched and inspired to become physically active. With the dance choreography directly influenced by the music and dance of modern Bhangra and Bollywood styles, Masala Bhangra is a fresh and exciting addition to the world of fitness and dance.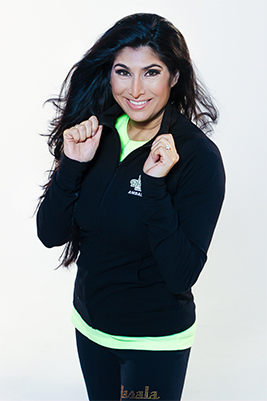 Creator Sarina Jain has devoted her life to fitness after losing her father at a young age to a massive cardiac arrest. He was only 47 years old. Growing up surrounded by her family's Indian culture, Sarina Jain envisioned the unity of both her passions, culture and fitness, and was inspired to successfully introduce Indian dance (Bhangra and Bollywood) to the fitness world at a global level. She has been in the fitness industry for the past 23 years, and is recognized as a fitness personality.
Read why Sarina Jain is the first to bring Indian dance to the US fitness industry at a global level: Masala Bhangra Workout ®: The story by Cathi Douglas (Titan Magazine)