Meet Master Trainer Deborah Kahan Kolb, Promoting Health, Developing Friendships and Creating Poetry!
February 28, 2018 [Deborah Kahan Kolb, Masala Bhangra Master Trainer]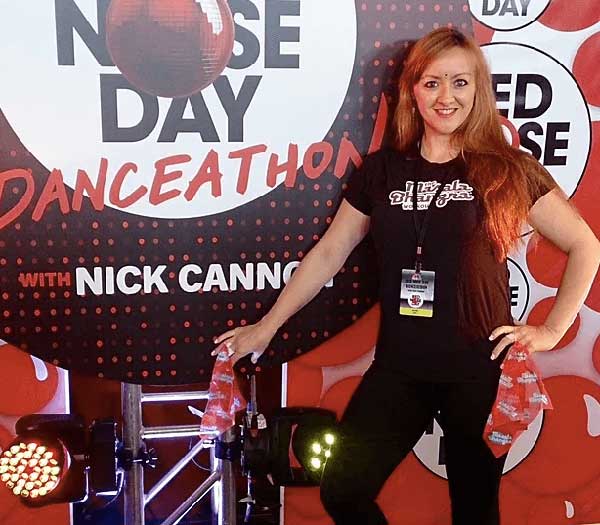 When did you discover Masala Bhangra and what were your first impressions?
I first discovered MB in 2008 at Alvin Ailey. I'd recently given birth and was experimenting with a number of different dance classes in an attempt to "lose the baby weight" and also find some time for myself outside of my responsibilities as a mom. I'd been taking samba and Zumba classes pretty regularly at Ailey when I found myself peeking through the window of one of the studios, drawn to this compelling, rhythmic, exciting music I heard through the doorway. I glimpsed Sarina teaching the class and observed her captivating energy and passion. I was hooked immediately, although I was unable to attend MB classes regularly for a number of years, until 2013.
Have you always been a dancer or involved in fitness?
I've been dancing for fun (not professionally) since childhood. In high school I choreographed and performed for community performances, and my love for all types of dance continues to this day. Being a fitness professional, however, is a new phase of my life that I'm proud to say began with MB.
When did you become an Ambassador?
I became an Ambassador in August 2014.
Why did you decide to make the leap to teaching Masala Bhangra?
One of my classic and oft-repeated stories goes as follows: I participated in the Alvin Ailey World Dance Extravaganza in 2013 for the first time. I was a samba dancer. Fishnets and feathers. At that point I hadn't taken a MB class in a few years. My entire family came to see the show, and after the performance I asked them, "So?? How was it? Wasn't I great?" To which my doting husband replied, "You were fine but there was THIS ONE GROUP… They looked like they were having a party on stage! You need to perform with THEM!"
So the following year I performed with MB (and yes, dancing MB is always like having a party!) and became an Ambassador shortly afterward.
How did you grow your classes / student base?
I began with a demo class at my local Y, and started teaching a weekly class there. I gradually reached out to the fitness directors of other gyms and fitness centers not far from where I live in Riverdale, NY. I now teach 7 classes a week in Riverdale, Yonkers, Manhattan, and Westchester. It takes some time to build a group of consistent regulars who look forward to coming to class! For example, at the Riverdale Y, I teach three classes/week (one of which is Bar Bhangra) and these members - many of whom are senior citizens - are among the most spirited, dedicated Masala Bhangra enthusiasts I've encountered! They've been coming to class since I started in January 2015, and we've become a family of friends.
What was a challenge (or challenges) you faced as you grew MB in a new area? How did you overcome them?
A challenge I've faced – and one I'm still grappling with – is that many people are unfamiliar with Masala Bhangra and are not always willing to try something new. I've had students who've tried MB with me, many who stayed with it and some who've decided it wasn't for them. I rely on building a rapport with my students - this connection propels them to tell their friends about MB and that's a great way to grow the class.
Another challenge is modifying the routine to fit the needs of the demographic I'm currently teaching, and always being mindful to take into account the different fitness levels of the participants.
What's been surprising about being an Ambassador (good or bad)?
I've found that fitness directors are enthusiastic about including a new format on the schedule. MB is something new and unusual for most [Zumba-saturated] group fitness programs. So I was surprised and pleased that most gyms and studios I reached out to were receptive to the idea of putting MB on the schedule.
You mentioned that some of your students are senior citizens. What is that experience like?
When I'm teaching, I get to bring joy and fun and exhilaration to my students, in addition to the obvious benefits of cardiovascular health. Participants get lost in the fun of the class, and they don't even realize they're exercising! It's so gratifying to hear from my seniors: "Ever since I've started dancing MB my stamina has increased and I feel great!" and "After this class I start my day with a smile!" I feel so lucky to be able to share joy and passion every day.
Do you have any advice for people considering becoming an Ambassador?
One of the soundest pieces of advice I've gotten from Sarina is "step out of your comfort zone," and try something new. You will become an integral part of the MB family, where every Ambassador is supported, encouraged, and welcomed as part of the whole. In no other fitness program do you get the warmth and individual attention that comes with being a MBA (Masala Bhangra Ambassador). In no other fitness program do you have access to the creator, Sarina Jain. Her vision and her energy truly infuse the program all over the world.
What's your favorite dance step/move or favorite song?
I have so many favorites, it's so hard to choose! I love Bollywood Kick for its sass and style, and Bhangra Kick and Balle Balle Knees because these moves are so grounded in authentic Bhangra folk dance. I cycle through favorite jam songs; for now it's "Boro Boro" from the movie Bluffmaster and the brand-spanking-new "Swag Se Swagat" from the movie Tiger Zinda Hai.
We understand you're a published poet as well as a busy mom! Please share a poem with us.
I think this poem is particularly fitting because its theme of birth and springtime fits neatly with my experience of Masala Bhangra: once only a "figment" of what might be possible, Masala Bhangra has now blossomed for me into a vital part of my life - dynamic, essential.
The Gestures of Trees
I imagine it must be Godlike to create
something from nothing. Sound
from silence.
The stealthy escape of light

from the tight black hole of space.

The close wrapped buds on the magnolia tree
outside my newborn daughter's window wave
and beckon shyly,
resurrected from their snow-

shrouds, the frozen decay that birthed them.

Come out to play, little girl.
Like you, we were only a figment last season.
And now we live.
- Deborah Kahan Kolb
Share On
Deborah is an inspiration. I learned so much from her as a teacher and she always keeps that Balle Balle joy!
---