Masala Bhangra Performing at the Alvin Ailey World Dance Showcase
July 19, 2017 [Vritika Patni]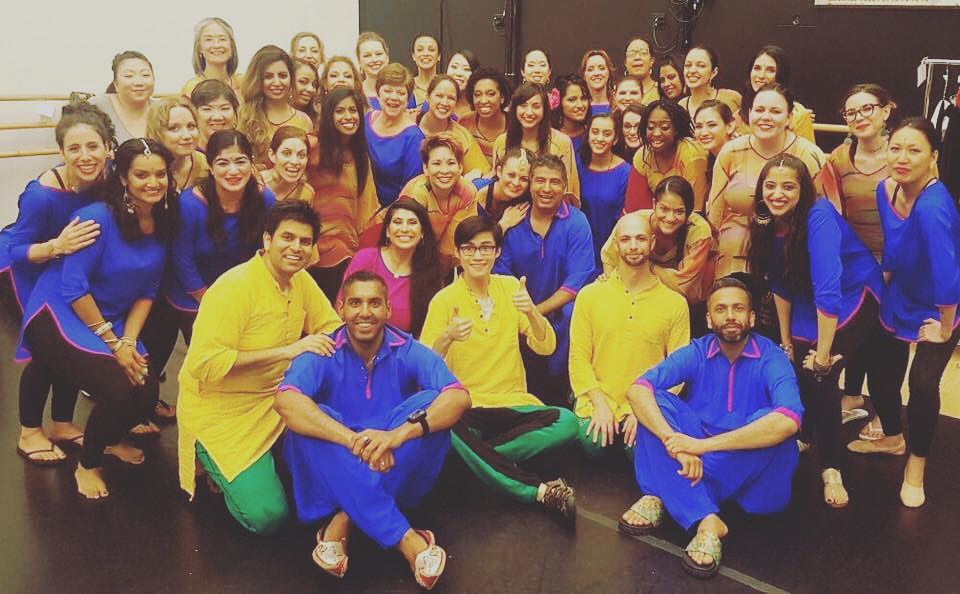 Usually it is my voice on this blog, however, I thought it would be new and different to share the voice of an Ailey World Dance Showcase audience member who joined us and wanted to share her reflections. We love to hear that our energy inspires others, and I hope her words compel at least a few you to join us on the stage next spring! - Sarina
This year was the first time I was able to work around my schedule to attend the show that I had heard so much about. I was excited tobe on the other end of a dance show as an audience member. Moreover, I knew there had to be something very special in Masala Bhangra's ability to convince the average person, someone who doesn't dance on a regular basis, that he / she is very capable of performing. I booked a red-eye flight and managed to make it to the first production.
They say once you perform to a song, you never hear it the same way again. Certain songs always seem to resonate with a group of people. This year, it was "Let's Nacho," quite literally Hindi for "Let's Dance!" It was this song that lit everyone's faces and refueled their energy. During the end of each show, one of the dancers came out with a "dhol" and the rest of the team danced to the beat of the live drum. These last few minutes on stage were indescribable; the team members cheered each other on, with the same amount of enthusiasm, if not more, than they had started with. Even though most of the performers were not from an Indian background, and did not know the meaning of the words to the songs, they followed along closely to the rhythm of the music, not letting that interfere with their passion. The performance truly did seem like a celebration.
This post would be incomplete without a portion of it dedicated to the time and effort the team members put into this production. This year's performers have truly stunned me with their dedication. They had been mastering their choreography for about two months, and even held additional practices at local parks. Their willingness to perfect every move, down to even the minute details, still blows me away. The blood, the sweat, the tears. Yet there was something more than the precision of their moves which made this performance stand out; it was the contagious energy and the everlasting friendships amongst the team that really set this performance apart. There's something so inspiring about a group of people who, in the mere time span of two months, become a part of something larger together—an experience which they will carry with them for the remainder of their lives.
I think one of my favorite parts of this dance experience was the team dinner which took place the night of the final performance. All the members dressed up, wore something other than their costumes or regular workout clothes, and got together for a final celebration of their success as a team. I don't remember the details of why this particular dinner stood out to me, but what I do remember is just an influx of laughter and positive energy. One of the dancers gave a toast reflecting on this journey as a whole, and took time to thank Sarina for her endless support as their mentor.
I'm so thankful to have been part of this experience. From watching the team rigorously practice its choreography, to feeling the thrill of being backstage, to seeing the group perform and show off two months of hard work, to being there to celebrate afterwards. I think this has made the Masala Bhangra experience very real to me as well. It has made me realize that Masala Bhangra is not just a workout, but something Sarina has worked hard to craft over the past seventeen years. It is a platform on which people are able to get together and grow, not only as dancers, but as individuals.
Share On
this is awesome. Thank you for sharing!
---